# 82 in our Waikiki map.

Hotel Name: .... Renew Hotel.
Category:.........

. (warning about star ratings!)
Address: ......... 129 Paoakalani Ave.
General description:
What we like about this hotel:
What you may not like about this hotel:
RESORT FEE ALERT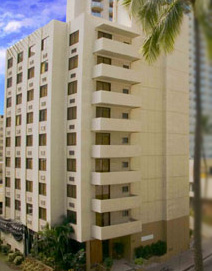 Please call Discount Hotels Hawaii at (808) 394-2112
for the best deal for a Waikiki Hotel of similar quality.
General description:............................(Back to top)
The Hotel Renew was originally built in 1962, it consists of a single building with a little over 70 rooms, most of the units have windows but no balcony.
The hotel has very small common areas, no swimming pool, in house restaurant or other common amenities found in most Waikiki Hotels.
The building was for many years the "back" or "mauka" tower of the ResortQuest Waikiki beach hotel until it was "spun off" and sold in 2005 and started operations as Ocean Tower Hotel in 2006. In 2007 underwent an ambitious renovation with the intention of increasing the star rating of the property.
Parking is very expensive and extra like all hotels in Waikiki. It is also very limited, parking can not be pre-reserved and there is no free street parking close by.
This hotel is number "82" within the yellow zone of our waikiki map, click here to see it's location in relation to other hotels in Waikiki.

What we like about this hotel:............................(Back to top)
The design of the new room decorations came out very nice and the renovation resulted in much nicer rooms than it had before.
The hotel is very closed to the beach, only a block away.
It is one of the few hotels in Honolulu that accepts small pets (for an extra fee).
What you may not like about this hotel:............................(Back to top)
This hotel has a mandatory extra daily "Hospitality fee", that is not included in your room total until you check out. These fees, also known as "resort fees" or "amenities fees", are being charged in several area hotels and range from $10 to $40 extra per day.
Most rooms have no balconies.
The intention behind the last renovation effort seems to have been to create a high end boutique hotel, the problem is that even though the decoration is very nice, what is missing is space. There was one aspect of the renovation that was beyond the designer control and that was that the rooms were not big enough to start with.
In exchange of personalized high end service there is a group of travelers that are willing to sacrifice the amenities, the pools, the Jacuzzis, the in house restaurants, bars and shops but the one thing they do not seem willing to compromise seems to be space and a balcony.
About half of the units face in the direction of the ocean and even though the hotel is a block inland, the view is fairly nice, the problem are the other half of the rooms that face a back alley towards not one but 3 youth Hostels that rent space by the bed. Try only to book the rooms that have an ocean view or you may not like the view that you have out of your window.
The room rates are as high as the Resort Quest Waikiki Beach Hotel next door and that seems to be a better buy.

Unless you want to be at the end of Waikiki, this hotel is somewhat far from the center.
Based on your particular needs and the objective of your trip, this hotel may have other pros and cons that you should consider, call us at (808) 394-2112 for more information.

050514
IMPORTANT NOTE:............................(Back to top)
Please keep in mind that ALL Hotels have shortcomings, the trick is to find a hotel which shortcomings you do not mind.
This hotel may or may not be the best option for it's category considering your particular situation and the days that you plan to visit our islands.
Call (808) 394-2112 to talk to one of our agents and he or she will be able to find for you the best option based on your needs.