# 79 in our Waikiki map.

Hotel Name: .... Lotus Hotel.
Category:.........

. (warning about star ratings!)
Address: ......... 2885 Kalakaua Ave.
General description:
What we like about this hotel:
What you may not like about this hotel:
RESORT FEE ALERT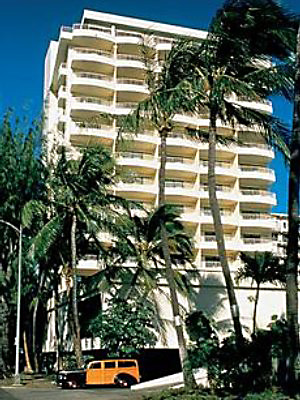 Please call Discount Hotels Hawaii at (808) 394-2112
for the best deal for a Waikiki Hotel of similar quality.
General description:............................(Back to top)
The Lotus Hotel was originally built in 1968 and is located at the end of Kapiolani Park, very close to the Diamond Head volcano crater and only a stroll away from the Waikiki Natatorium (old salt water swimming pool built in the 50's next to the ocean), the Waikiki Oceanarium and "Queen's" beach which is considered the primary gay and lesbian beach of the Island of Oahu. It is a small boutique hotel with very good service. There is not much of a common area but it is definitely one of the few quiet hotels in Honolulu not only for the location but also for the small size of the property and the lack of in house stores and restaurants.
Even though the building is 4 decades old, it has been renovated numerous times.
The Lotus Hotel operated until the end of 2008 as the Honolulu "W" Hotel.
Parking is extra like in Waikiki and there is no free street parking close by unless you are willing to cross to the other side of the park about 3 blocks away.
Like all Aqua Hotels, this hotel is a gay friendly facility that welcomes gay men, lesbian, bisexual, trans gender and straight and is also a memeber of the IGLTA (International Gay and Lesbian Travel association)
This hotel is number "79" within the gray zone on the far right of our waikiki map, click here to see it's location in relation to other hotels in Waikiki.
What we like about this hotel:............................(Back to top)
The hotel is situated far from the Waikiki area and with the back against Kapiolani Park, is a quieter hotel than most Waikiki properties.
If you are looking for a low profile stay, away from busy "downtown Waikiki" and you do not need a lot of common area amenities the Lotus Hotel is a very good candidate to consider.
What you may not like about this hotel:............................(Back to top)
This hotel has a mandatory extra daily "Hospitality fee", that is not included in your room total until you check out. These fees, also known as "resort fees" or "amenities fees", are being charged in several area hotels and range from $10 to $40 extra per day.
The same location that makes many people consider staying in this hotel becomes a problem since you will be about 30 minutes walk form the International Market Place, no other restaurants or shops are in the vicinity but the ones belonging to the New Otani, or a renown restaurant called Michelle's, but that is a small price to pay for peace and a cab is less than $10 to go to the center of Waikiki.
Even though crime in the area is not particularly a problem, and because of the proximity of Kapiolani Park, the population density in the area is quite low and you will not find many people walking in the area, specially after dark.
Based on your particular needs and the objective of your trip, this hotel may have other pros and cons that you should consider, call us at (808) 394-2112 for more information.

050514
IMPORTANT NOTE:............................(Back to top)
Please keep in mind that ALL Hotels have shortcomings, the trick is to find a hotel which shortcomings you do not mind.
This hotel may or may not be the best option for it's category considering your particular situation and the days that you plan to visit our islands.
Call (808) 394-2112 to talk to one of our agents and he or she will be able to find for you the best option based on your needs.