# 78 in our Waikiki map.

Hotel Name: .... Diamond Head Beach Hotel.
Category:.........

. (warning about star ratings!)
Address: ......... 2947 Kalakaua Ave.
General description:
What we like about this hotel:
What you may not like about this hotel: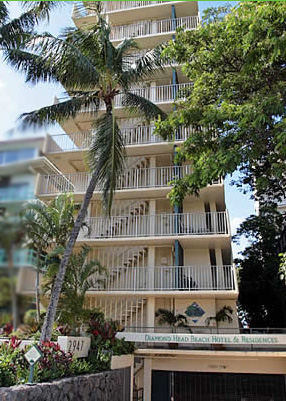 Please call Discount Hotels Hawaii at (808) 394-2112
for the best deal for a Waikiki Hotel of similar quality.
General description:............................(Back to top)
The Diamond Head Beach hotel was originally built in 1961, has 14 floors and about 55 units, some are part of the hotel and others are rented out as vacation rentals.
It has a small lobby, no pool or other amenities, and even though it is fronting the ocean and despite it's name, it has no beach in front of the hotel.
The lower floor units have a larger floor plan than the upper floor ones due to the "pyramid" shape of the building.
Parking is extra like in Waikiki and there is no free street parking close by unless you are willing to cross to the other side of the park about 3 blocks away.
This hotel is number "78" within the gray zone on the far right of our waikiki map, click here to see it's location in relation to other hotels in Waikiki.
What we like about this hotel:............................(Back to top)
If you like small hotels it does not get any smaller than this property for the Honolulu area.
Most units have kitchens.
The hotel is situated far from the Waikiki area and with the back against Kapiolani Park and the front facing the ocean, is a quieter hotel than most Waikiki properties.
This hotel has studios, one bedrooms and 2 bedroom units.
What you may not like about this hotel:............................(Back to top)
Based on the hotel name and the location, most people expect a sandy beach in front of the hotel, be forewarned that this is not the case, to go to the beach you need to walk a couple of blocks to Queens beach next to the Waikiki Natatorium or go all the way to "Kuhio beach" in front of Waikiki (Kuhio beach is the real name of the so called Waikiki beach, in fact there is no such a thing as a beach called Waikiki anywhere on the Hawaiian islands)
The location is oceanfront but quite far from the center of Waikiki (about 35 minutes walk form the International Market Place, no restaurants or shops are in the vicinity.
Even though crime in the area is not particularly a problem, and because of the proximity of Kapiolani Park, the population density in the area is quite low and you will not find many people walking in the area, specially after dark.
If you plan to go to Waikiki to enjoy all that it has to offer, it is far enough so most people do not want to do the walk more than once, a taxi will cost you less than $10 and there is no public transportation close by since buses either turn in Monsarrat or Kapahulu Ave. If you are driving, if you are going to Waikiki it will be cheaper to take a cab since parking in the area is extremely expensive and very scarce.
Based on your particular needs and the objective of your trip, this hotel may have other pros and cons that you should consider, call us at (808) 394-2112 for more information.

050514
IMPORTANT NOTE:............................(Back to top)
Please keep in mind that ALL Hotels have shortcomings, the trick is to find a hotel which shortcomings you do not mind.
This hotel may or may not be the best option for it's category considering your particular situation and the days that you plan to visit our islands.
Call (808) 394-2112 to talk to one of our agents and he or she will be able to find for you the best option based on your needs.