# 76 in our Waikiki map.

Hotel Name: .... Waikiki Grand Hotel.
Category:.........

. (warning about star ratings!)
Address: ......... 134 Kapahulu Ave.
General description:
What we like about this hotel:
What you may not like about this hotel: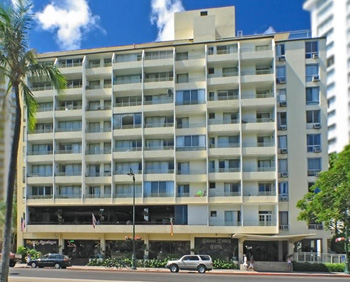 Please call Discount Hotels Hawaii at (808) 394-2112
for the best deal for a Waikiki Hotel of similar quality.
General description:............................(Back to top)
The Waikiki Grand was originally built in 1963. It has 9 floors and 173 units that are rented either as vacation rentals or are part of the hotel pool.
The building is located a short stroll away from the beach, on Kapahulu Avenue which is consider the eastern end limit of Waikiki, across the street form the Honolulu Zoo.
The building has a small swimming pool and limited other common amenities. The hotel is also home, on the second floor, to "Hulas" one of the best known Gay and Lesbian bars in the State of Hawaii.
Parking is very limited and expensive. There is however some free street parking on the opposite side of the Honolulu Zoo, on Monsarrat Ave.
Due to the location of the Gay Bar and Restaurant Hula's, the Waikiki Grand is slowly becoming a very lively and popular Gay hub.
This hotel is number "76" within the yellow zone of our Waikiki map, click here to see it's location in relation to other hotels in Waikiki.
What we like about this hotel:............................(Back to top)
This is a low end hotel that is very close to the beach, that is something that is not common, just make sure that you do not overpay since it is only a one star rating.
If you need to be on the far east side of Waikiki, this hotel is across the street from the Honolulu Zoo and half a block from the beach.
What you may not like about this hotel:............................(Back to top)
Small size of the pool can be a problem if you are coming with children. Pools can still be inviting even if they are small, unfortunately this is not one of those.
Rooms tend to be really small.
Like all hotels in Waikiki, parking is extra and in the case of this hotel is also VERY limited. If you are planning to stay in this hotel you may want to rethink that car rental since parking is on a first come first serve basis (cannot be reserved).
Based on your particular needs and the objective of your trip, this hotel may have other pros and cons that you should consider, call us at (808) 394-2112 for more information.

050514
IMPORTANT NOTE:............................(Back to top)
Please keep in mind that ALL Hotels have shortcomings, the trick is to find a hotel which shortcomings you do not mind.
This hotel may or may not be the best option for it's category considering your particular situation and the days that you plan to visit our islands.
Call (808) 394-2112 to talk to one of our agents and he or she will be able to find for you the best option based on your needs.