# 66 in our Waikiki map.

Hotel Name: .... Waikiki Circle Hotel.
Category:.........

. (warning about star ratings!)
Address: ......... 2464 Kalakaua Ave.
General description:
What we like about this hotel:
What you may not like about this hotel:
RESORT FEE ALERT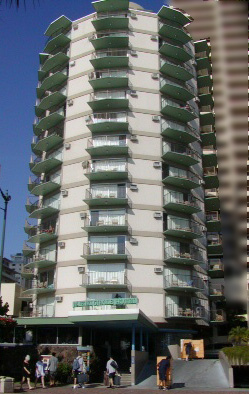 Please call Discount Hotels Hawaii at (808) 394-2112
for the best deal for a Waikiki Hotel of similar quality.
General description:............................(Back to top)
The Waikiki Circle Hotel was built way back in the year 1963. This cylinder-shaped hotel contains 104 rooms totaling 14 floors. By first glance, the Circle Hotel is obviously thought to be quite old not only by the fact that it was built so long ago but it has an old-fashioned architectural design. It is situated in the center of Waikiki across from the beach along the main avenue Kalakaua. Without a pool and with a small lobby along with tiny common area, this hotel is consider to be in the one star rating range. Like all hotels in Waikiki, its parking must be separately paid.
This hotel is number "66" within the blue zone of our waikiki map, click here to see it's location in relation to other hotels in Waikiki.
What we like about this hotel:............................(Back to top)
It is in an excellent location since it is in the center of Waikiki, across the street from the beach, and most importantly along the main avenue Kalakaua.
What also makes this hotel appealing is the fact that every room has a balcony.
What you may not like about this hotel:............................(Back to top)
This hotel charges a $15 to $25 A DAY of what they call "amenities fee". This is in addition to the $25 to $30 parking fee that you would be charged if you want to park a car. These fees are NOT included in your rate and will be billed to you at the time of check in.
Since it has been constructed decades ago, disappointingly, the hotel has never really been through a total renovation to keep up with the changing times. Only "maintenance type' renovations have been done to keep it running.
Its rooms are also fairly small.
The hotel, unfortunately, does not have any amenities.
It is tends to be overpriced for its rating.
The parking is quite limited and expensive but that is something common in the Waikiki area.
Based on your particular needs and the objective of your trip, this hotel may have other pros and cons that you should consider, call us at (808) 394-2112 for more information.

051211
IMPORTANT NOTE:............................(Back to top)
Please keep in mind that ALL Hotels have shortcomings, the trick is to find a hotel which shortcomings you do not mind.
This hotel may or may not be the best option for it's category considering your particular situation and the days that you plan to visit our islands.
Call (808) 394-2112 to talk to one of our agents and he or she will be able to find for you the best option based on your needs.