# 64 in our Waikiki map.

Hotel Name: .... Hyatt Regency Hotel.
Category:.........

. (warning about star ratings!)
Address: ......... 2424 Kalakaua Ave.
General description:
What we like about this hotel:
What you may not like about this hotel:
RESORT FEE ALERT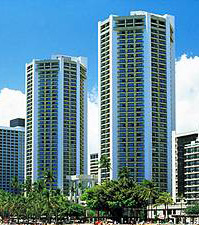 Please call Discount Hotels Hawaii at (808) 394-2112
for the best deal for a Waikiki Hotel of similar quality.
General description:............................(Back to top)
The familiar twin towers at the Hyatt Regency house over 600 units each in over 40 floors on Kalakaua Avenue in the middle of Waikiki.
The property was erected in 1976. It has ample common areas with shops, restaurants and bars as well as a second floor lobby and front desk. The pool area is adequate but not very big, space is a problem for most hotels in Waikiki but it seems to be more evident in the high end properties because travelers tend to expect more from those hotels.
This hotel is number "64" within the blue zone of our waikiki map, click here to see it's location in relation to other hotels in Waikiki.
What we like about this hotel:............................(Back to top)
Even though the lobby is on the second floor, there are plenty of elevators , escalators and stairways to comfortably take you to the lobby area.
The service is that you would expect form any 4 star hotel, especially a Hyatt.
It looks more modern than the other 4 stars in the center of Waikiki.
The location is very convenient and central
What you may not like about this hotel:............................(Back to top)
This hotel charges a $25 A DAY of what they call "Resort fee". This is in addition to the $30 to $40 parking fee per day that you would be charged if you want to park a car. These fees are NOT included in your rate and will be billed to you at the time of check in.
For most people four star hotels need to be on the beach, that is why the can get away collecting what they ask for the rooms, unfortunately this hotel is across the street from the beach what would be perfect for a 3 star but not for a 4 or 5 star rating.
Like all hotels in Waikiki, parking is extra and quite expensive.
Based on your particular needs and the objective of your trip, this hotel may have other pros and cons that you should consider, call us at (808) 394-2112 for more information.

051211

509
IMPORTANT NOTE:............................(Back to top)
Please keep in mind that ALL Hotels have shortcomings, the trick is to find a hotel which shortcomings you do not mind.
This hotel may or may not be the best option for it's category considering your particular situation and the days that you plan to visit our islands.
Call (808) 394-2112 to talk to one of our agents and he or she will be able to find for you the best option based on your needs.