# 61 in our Waikiki map.

Hotel Name: .... Pacific Monarch Hotel.
Category:.........

. (warning about star ratings!)
Address: ......... 142 Uluniu St.
General description:
What we like about this hotel:
What you may not like about this hotel:
RESORT FEE ALERT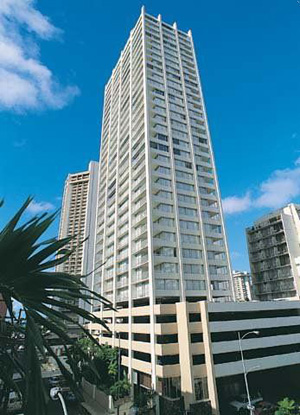 Please call Discount Hotels Hawaii at (808) 394-2112
for the best deal for a Waikiki Hotel of similar quality.
General description:............................(Back to top)
The Pacific Monarch is located at the corner of Kuhio and Uluniu avenues. It is a high rise building built in 1980 with a total of 216 units in 33 floors. It was designed not as a hotel but as a condominium, that is why it only has a small lobby area with a front desk. There is a pool and sun-deck area on the top of the building.
Most of the units are studios and 1 bedrooms with kitchens, part of the units are operated as a hotel under the name of Aston Pacific Monarch (for a while was also known as Resort Quest Pacific Monarch). The other part of the building is owned by private individuals that either live in the building or rent out the units as vacation rentals or for long term.
This hotel has had the proper regular maintenance but no major renovation was performed recently
Parking is available but expensive.
This hotel is number "61" within the blue zone of our waikiki map, click here to see it's location in relation to other hotels in Waikiki.
What we like about this hotel:............................(Back to top)
Location is very good and central, only a short stroll from the main part of Waikiki beach.
Most units have cooking facilities that make them good choices for visitors staying more than a few days.
All units have balconies.
What you may not like about this hotel:............................(Back to top)
This hotel has a mandatory extra daily "Hospitality fee", that is not included in your room total until you check out. These fees, also known as "resort fees" or "amenities fees", are being charged in several area hotels and range from $10 to $40 extra per day.
The floor plan is not the best for a hotel environment even though the units are comfortable and of fairly good size considering that this is Hawaii (units in Hawaii tend to be smaller than on the mainland
USA).
The hotel sits on a "T" shape intersection with a traffic light on one of the busiest avenues in Waikiki if you need to stay in this hotel, you may want to request a unit away from Kuhio ave. to try to minimize traffic noise.
Based on your particular needs and the objective of your trip, this hotel may have other pros and cons that you should consider, call us at (808) 394-2112 for more information.

051211

09
IMPORTANT NOTE:............................(Back to top)
Please keep in mind that ALL Hotels have shortcomings, the trick is to find a hotel which shortcomings you do not mind.
This hotel may or may not be the best option for it's category considering your particular situation and the days that you plan to visit our islands.
Call (808) 394-2112 to talk to one of our agents and he or she will be able to find for you the best option based on your needs.