# 57 in our Waikiki map.

Hotel Name: .... Aloha Surf Hotel.
Category:.........

. (warning about star ratings!)
Address: ......... 444 Kanekapolei St.
General description:
What we like about this hotel:
What you may not like about this hotel:
RESORT FEE ALERT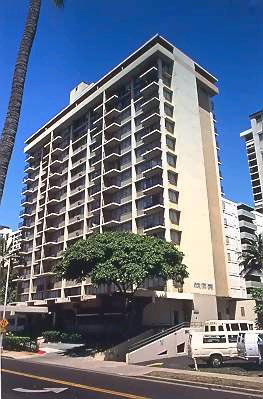 Please call Discount Hotels Hawaii at (808) 394-2112
for the best deal for a Waikiki Hotel of similar quality.
General description:............................(Back to top)
The Aloha surf building was erected in 1968, it has 16 floors and a little over 200 units. The lobby and front desk are of adequate size for the hotel category . It features a very small pool and a small pool area.
This hotel underwent a major renovation in 2007 to sell the units to individual owners.
Parking is available but limited.
Like all Aqua Hotels, the Aqua Aloha Surf hotel is a gay friendly facility that welcomes gay men, lesbian, bisexual, trans gender and straight.
This hotel is number "57" within the blue zone of our waikiki map, click here to see it's location in relation to other hotels in Waikiki.
What we like about this hotel:............................(Back to top)
Like all hotels in the red and blue areas, the central location is a plus.
The rooms were renovated using a very nice and contemporary design.
This hotel includes a continental breakfast for it's guests.
All rooms have internet access, a small refrigerator and a small microwave oven.
There is part of the parking in an open yard next to the hotel in case you drive a vehicle that can not fit in the garage since the clearance there is only 6' 3".
What you may not like about this hotel:............................(Back to top)
This hotel has a mandatory extra daily "Hospitality fee", that is not included in your room total until you check out. These fees, also known as "resort fees" or "amenities fees", are being charged in several area hotels and range from $10 to $40 extra per day.
The so called "Moderate Partial City View rooms" (formerly known as Standard) are very small and have NO balcony, they are on the 2nd and 3rd floors so you may want to stay away from those, book at least a Superior Partial City View or a Deluxe Partial City view room.
The pool is rather small but it is only a stroll away from Waikiki beach.
Based on your particular needs and the objective of your trip, this hotel may have other pros and cons that you should consider, call us at (808) 394-2112 for more information.

051211
IMPORTANT NOTE:............................(Back to top)
Please keep in mind that ALL Hotels have shortcomings, the trick is to find a hotel which shortcomings you do not mind.
This hotel may or may not be the best option for it's category considering your particular situation and the days that you plan to visit our islands.
Call (808) 394-2112 to talk to one of our agents and he or she will be able to find for you the best option based on your needs.