# 56 in our Waikiki map.
Hotel Name: .... Waikiki Pearl (former Honolulu Prince Hotel and Aqua Tides).
Category:.........

. (warning about star ratings!)
Address: ......... 415 Nahua Ave.
General description:
What we like about this hotel:
What you may not like about this hotel:
RESORT FEE ALERT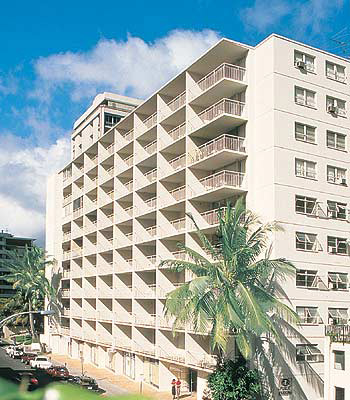 Please call Discount Hotels Hawaii at (808) 394-2112
for the best deal for a Waikiki Hotel of similar quality.
General description:............................(Back to top)
The Aqua Waikiki Pearl (formerly known as Honolulu Prince hotel and Waikiki Tides) was built over 40 years ago in 1960, has 10 floors and over 100 apartments that range from the very small Hotel room to 1 and 2 bedroom units. Judging by the general design, this building was never intended to be hotel, has no amenities and the common areas are small and more typical of and apartment building than a "resort". Lack of resort type infrastructure has not been a problem so far because It has always been oriented towards the low end of the market. Parking is available for a fee but is very limited.
The Aqua Waikiki Pearls hotel is a gay friendly facility that welcomes gay men, lesbian, bisexual, trans gender and straight.
This hotel is number "57" within the blue zone of our waikiki map, click here to see it's location in relation to other hotels in Waikiki.
What we like about this hotel:............................(Back to top)
The general location is very central, like all the hotel located within the red or blue areas of our map.
Most units have a balcony.
What you may not like about this hotel:............................(Back to top)
This hotel has a mandatory extra daily "Hospitality fee", that is not included in your room total until you check out. These fees, also known as "resort fees" or "amenities fees", are being charged in several area hotels and range from $10 to $40 extra per day.
The biggest problem with low end, low quality budget hotels is that due to the downturn of the economy, for a few dollars more, depending on the season, you can get a 2 or 3 star hotel and the difference in quality, service and hygiene between a budget and a 2 or 3 star hotel is HUGE.
Units are small, especially the hotel rooms, but that is a common occurrence in low end properties, 1 bedroom and 2 bedroom units are better choices.
Parking can really be a problem because not only that it is very expensive but also it's very limited.
You may want to rethink that car rental. There is no unrestricted street parking in the area.
Based on your particular needs and the objective of your trip, this hotel may have other pros and cons that you should consider, call us at (808) 394-2112 for more information.

051211
IMPORTANT NOTE:............................(Back to top)
Please keep in mind that ALL Hotels have shortcomings, the trick is to find a hotel which shortcomings you do not mind.
This hotel may or may not be the best option for it's category considering your particular situation and the days that you plan to visit our islands.
Call (808) 394-2112 to talk to one of our agents and he or she will be able to find for you the best option based on your needs.