# 52 in our Waikiki map.

Hotel Name: .... Princess Kaiulani Hotel.
Category:.........

. (warning about star ratings!)
Address: ......... 120 Kaiulani Ave.
General description:
What we like about this hotel:
What you may not like about this hotel:

RESORT FEE ALERT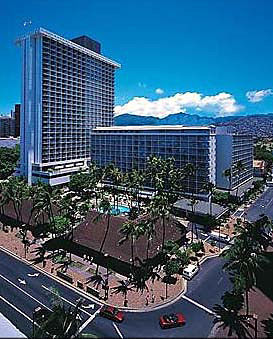 Please call Discount Hotels Hawaii at (808) 394-2112
for the best deal for a Waikiki Hotel of similar quality.
General description:............................(Back to top)
Built in different phases during the 50's and 60's, the Princess Kaiulani Hotel sits on top of part of the original site where Princess Victoria Kaiulani, heir to the throne of the Kingdom of Hawaii, had her 10 acre royal estate. The hotel was developed over the years in several different interconnected wings and it is about to undergo the demolition of the oldest building and a multimillion dollar construction project that has already started and should be finished by 2010.
The property belongs to a Japanese company and is managed by Sheraton Hotels.
This hotel is number "52" within the blue zone of our waikiki map, click here to see it's location in relation to other hotels in Waikiki.
What we like about this hotel:............................(Back to top)
The hotel has an excellent location, it is not beach front but you will be "steps away" from the sand.
What you may not like about this hotel:............................(Back to top)
There is a very large construction site next to this Hotel.
All Sheratons in Waikiki charge a mandatory "Resort Fee" (between $20 and $30 a day) for things like internet service, phone calls and parking.
Even though the hotel was very well maintained, the older parts of the property did not have the "design quality" that you would expect form a hotel like this, hopefully the coming renovation will replace those areas. Stay tuned for the report after the end of all the planned work.
If you decide to stay in the hotel before they finish with the demolition/renovation project, you may want to stay away from the so called "princess tower" that is the oldest building of the complex. Most of the so called "standard rooms" are there but some of the rooms in this tower are also called City side, City View and Partial Ocean View. The other 2 towers should be OK. There are other options better suited in the area that you may want to consider, specially until all the renovation phases are completed, please call us (808-394-2112) for more info.
Based on your particular needs and the objective of your trip, this hotel may have other pros and cons that you should consider, call us at (808) 394-2112 for more information.

051211
IMPORTANT NOTE:............................(Back to top)
Please keep in mind that ALL Hotels have shortcomings, the trick is to find a hotel which shortcomings you do not mind.
This hotel may or may not be the best option for it's category considering your particular situation and the days that you plan to visit our islands.
Call (808) 394-2112 to talk to one of our agents and he or she will be able to find for you the best option based on your needs.