# 50 in our Waikiki map.

Hotel Name: .....Moana Surfrider Hotel.
Category:.........


Address: ......... 2365 Kalakaua Ave.
General description:
What we like about this hotel:
What you may not like about this hotel:

RESORT FEE ALERT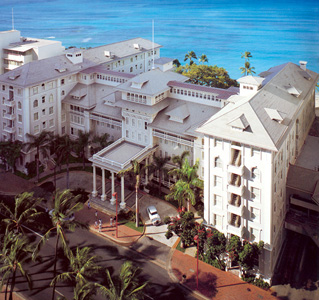 Please call Discount Hotels Hawaii at (808) 394-2112
for the best deal for a Waikiki Hotel of similar quality.
General description:............................(Back to top)
The Sheraton Moana Surfrider is one of the two most recognizable hotels in the Hawaiian Islands. The records from City and County of Honolulu register the original building as erected in 1913. The hotel opened it's doors to the first guests in 1901 but that was in a earlier structure. In 1952 another part of the present hotel was constructed and in 1969 a tower was built to accommodate the hotel growth but in a more contemporary style.
Today the hotel has almost 800 rooms, several restaurants, bars and shops.
The property belongs to a Japanese company and is managed by Sheraton Hotels.
This hotel is number "50" within the blue zone of our waikiki map, click here to see it's location in relation to other hotels in Waikiki.
What we like about this hotel:............................(Back to top)
Very good location, it can not be more central than this area.
This hotel is on the water and has the service that you have come to expect from a Sheraton Hotel.
You can feel the elegance of a bygone era in every corner of the old section of this hotel.
Even if you decide not to stay in this hotel, it's restaurants and bars will welcome you for drinks or meals and you can still enjoy some of the atmosphere of this Hawaiian legend.
What you may not like about this hotel:............................(Back to top)
There is a very large construction site across the street from this Hotel.
All Sheratons in Waikiki charge a mandatory "Resort Fee" (between $30 and $40 a day) for things like internet service, phone calls and parking.
If you are searching for a modern looking hotel, make sure that you request to stay in the tower, If you like antiques the old wings will suit you just fine.
Most people that choose this hotel want to be in the "old" section, the main problem with that section is that there are no 2 rooms alike, some are very good and some are not, if you are already here and is for that same day, then ask to see the room, if on the other hand it is a future reservation then is better to call us at 808-394-2112 we check what rooms they have available and choose among the better ones. You will not pay a penny more for the room and at least you will have a better chance to end up in a room that you will like.
Another problem with the old section of the hotel is that most of the balconies are not operational, so rooms in this section have no balconies, only windows.
Staying in the "new" section, also called the Tower, kind of defeats the purpose of staying in a classic hotel since it looks and feels like a modern building.
Based on your particular needs and the objective of your trip, this hotel may have other pros and cons that you should consider, call us at (808) 394-2112 for more information.

051211
IMPORTANT NOTE:............................(Back to top)
Please keep in mind that ALL Hotels have shortcomings, the trick is to find a hotel which shortcomings you do not mind.
This hotel may or may not be the best option for it's category considering your particular situation and the days that you plan to visit our islands.
Call (808) 394-2112 to talk to one of our agents and he or she will be able to find for you the best option based on your needs.