# 49 in our Waikiki map.

Hotel Name: .... Outrigger Waikiki Hotel.
Category:.........

. (warning about star ratings!)
Address: ......... 2335 Kalakaua Ave.
General description:
What we like about this hotel:
What you may not like about this hotel:

RESORT FEE ALERT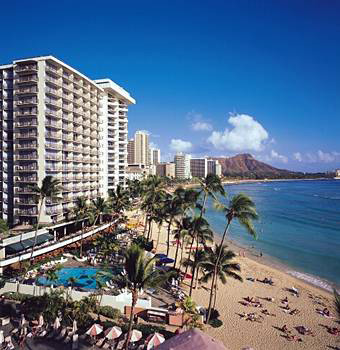 Please call Discount Hotels Hawaii at (808) 394-2112
for the best deal for a Waikiki Hotel of similar quality.
General description:............................(Back to top)
This is one of the 3 most "clicked" hotels in our Waikiki map, originally erected in 1967 the well known local hotel is also the home of "Duke's" probably the best known and most popular restaurant and bar in Waikiki. With over 500 rooms, this hotel has been the flagship property for the Outrigger Hotels in Waikiki for a long time. Extensive renovations over the years have kept this hotel in top condition and it's unbeatable location on the beach front has attracted millions of visitors over the years.
This hotel is number "49" within the red/blue zone of our Waikiki map, click here to see it's location in relation to other hotels in Waikiki.
What we like about this hotel:............................(Back to top)
Location, location, location, nothing is "really" far from the center of Waikiki and you can walk to this point from every Waikiki Hotel but at the end of the day, when people go out for a walk after a full day of beach and tours, they all gravitate to this area.
What you may not like about this hotel:............................(Back to top)
This hotel has a mandatory extra daily "Hospitality fee", that is not included in your room total until you check out. These fees, also known as "resort fees" or "amenities fees", are being charged in several area hotels and range from $10 to $40 extra per day.
There is a very large construction site across the street from this Hotel.
NOISE can be a real problem. If you are facing the street (Kalakaua Ave) nearby bars, restaurants and Shows such as Jimmy Buffet's and Magic of Polynesia can keep you awake. If you are facing the ocean is a little better but noise can still be an issue. In fact it can be so bad that at one point the Front Desk would provide you with ear plugs. This area of Waikiki is great to shop, dine and play but may not be the best choice for a Hotel.
The beach in front of this hotel is not very wide and that can be a little disappointing if you are planning to spend time on the beach. Of course there are plenty of beautiful wide, deserted or sparsely visited beaches on other parts of the island, unfortunately there are no hotels near by.
Click here for an aerial view of the complete Waikiki beach area, and click here for a bird's eye view of the best and widest section of Waikiki beach.

Parking at the hotel is expensive ($30 A DAY last time we checked), even if you are a guest, all hotels charge for parking but the ocean front ones have the highest parking rate of all.
The swimming pool is adequate but not as big as some people would like for a hotel of this category, that is another Waikiki signature since many hotels in the area have a similar problem.
Based on your particular needs and the objective of your trip, this hotel may have other pros and cons that you should consider, call us at (808) 394-2112 for more information.

050212
IMPORTANT NOTE:............................(Back to top)
Please keep in mind that ALL Hotels have shortcomings, the trick is to find a hotel which shortcomings you do not mind.
This hotel may or may not be the best option for it's category considering your particular situation and the days that you plan to visit our islands.
Call (808) 394-2112 to talk to one of our agents and he or she will be able to find for you the best option based on your needs.