# 46 in our Waikiki map.

Hotel Name: ....Skyline Hotel (former Island Colony Hotel).
Category:.........

. (warning about star ratings!)
Address: ......... 445 Seaside Ave.
General description:
What we like about this hotel:
What you may not like about this hotel:
RESORT FEE ALERT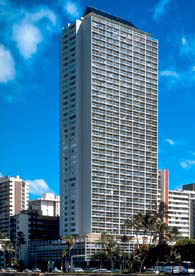 Please call Discount Hotels Hawaii at (808) 946-1216
for the best deal for a Waikiki Hotel of similar quality.
General description:............................(Back to top)
The Skyline/Island Colony is both a condo and a Hotel.
A little over 150 units are run as a hotel, the rest of the building and the majority of the units are either use by owner-occupants or are rented out either long term or as a vacation rental. Please note that it is illegal to rent vacation rental condo units in this building for less than 30 days, if you have any questions about the minimum stay you can call the Island Colony building association at
(808)922-2442.
The building is a very impressive 44 floor tall tower built on the corner of Seaside Avenue and the Ala Wai Boulevard. Like all hotels in the red area of our Waikiki map, the location is very central and only a few minutes walk separate this building from the beach and the International Market Place consider by many as the center of Waikiki. The building features ample common areas including a large lobby and front desk and right above the parking area a large sun-deck with a swimming pool and Jacuzzi.
The Hotel operation is run by Aqua and like all Aqua Hotels, this hotel is a gay friendly facility that welcomes gay men, lesbian, bisexual, trans gender and straight and is also a memeber of the IGLTA (International Gay and Lesbian Travel association)

This hotel is number "46" within the red zone of our Waikiki map, click here to see it's location in relation to other hotels in Waikiki.
What we like about this hotel:............................(Back to top)
The balconies in this building are the widest in Waikiki, and almost every unit has a view of at least the mountains and the Ala Wai canal.
The pool area is inviting and since the sun-deck wraps around the entire building, you can sunbathe the entire day. The pool is not huge but as Waikiki pools go, is bigger than most in the area and the Jacuzzi is always a good addition.
Unlike most hotels in Waikiki, in order to access the common areas where the elevators are, you need to have an access card or go through security, this adds an extra layer of safety that is not foolproof by any means but is definitely better than nothing.
What you may not like about this hotel:............................(Back to top)
This hotel has a mandatory extra daily "Resort fee", that is not included in your room total until you check out. These fees, also known as "hospitality fees" or "amenities fees", are being charged in several area hotels and range from $10 to $40 extra per day.
The private units that rent as vacation rentals are a different story and it really depends of how well they have been taken care by the owners but always keep in mind the minimum legal stay for a condo in this building is 30 days.
If you decide for an "ocean view" room, remember that you will be 3 blocks away from the beach and that you will be able to see the ocean but at the very far end.
Based on your particular needs and the objective of your trip, this hotel may have other pros and cons that you should consider, call us at (808) 394-2112 for more information.

051211
IMPORTANT NOTE:............................(Back to top)
Please keep in mind that ALL Hotels have shortcomings, the trick is to find a hotel which shortcomings you do not mind.
This hotel may or may not be the best option for it's category considering your particular situation and the days that you plan to visit our islands.
Call (808) 394-2112 to talk to one of our agents and he or she will be able to find for you the best option based on your needs.