# 39 in our Waikiki map.

Hotel Name: .... Royal Kuhio condo.
Category:.........

. (warning about star ratings!)
Address: ......... 2240 Kuhio Ave.
General description:
What we like about this hotel:
What you may not like about this hotel: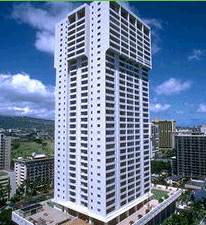 Please call Discount Hotels Hawaii at (808) 394-2112
for the best deal for a Waikiki Hotel of similar quality.
General description:............................(Back to top)
Built in 1976, this tall building sits in the center of the city block of Kuhio Ave between Royal Hawaiian and Seaside Avenues. It is NOT a hotel but a considerable number of units are rented out as vacation rentals. All units are suites with full kitchens.
This condo is number "39" within the red zone of our waikiki map, click here to see it's location in relation to other hotels in Waikiki.
What we like about this hotel:............................(Back to top)
Excellent location, very close to main Waikiki attractions, restaurants and shops
Spacious common areas including a good size lobby and a swimming pool with and inviting sun-deck.
What you may not like about this hotel:............................(Back to top)
It is hard to predict how well maintained each unit in a private condo is. The main problem with condos is that the condition of the unit that you may end up renting as a vacation rental depends on how good it has been taken care of by it's owner. As a rule of thumb, vacation rental units are never as good or well maintained as hotel rooms are, so yes, you can save some money by staying in a vacation rental but do not think for a moment that the only difference with a hotel of the same category is that you will not have daily maid service. If you have never stayed in a vacation rental before, think of their vacation time quality as better than camping but not nearly as good as staying in a Hotel.
Based on your particular needs and the objective of your trip, this hotel may have other pros and cons that you should consider, call us at (808) 394-2112 for more information.

051211
IMPORTANT NOTE:............................(Back to top)
Please keep in mind that ALL Hotels have shortcomings, the trick is to find a hotel which shortcomings you do not mind.
This hotel may or may not be the best option for it's category considering your particular situation and the days that you plan to visit our islands.
Call (808) 394-2112 to talk to one of our agents and he or she will be able to find for you the best option based on your needs.