# 36 in our Waikiki map.

Hotel Name: .... Coconut Waikiki Hotel.
Category:.........

. (warning about star ratings!)
Address: ......... 450 Lewers Street.
General description:
What we like about this hotel:
What you may not like about this hotel: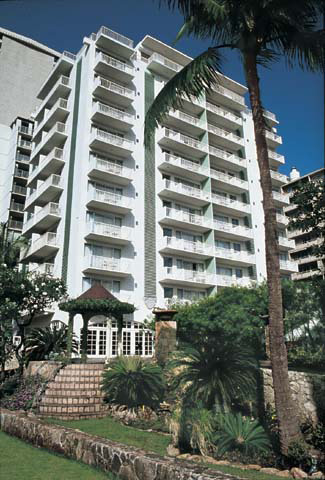 Please call Discount Hotels Hawaii at (808) 394-2112
for the best deal for a Waikiki Hotel of similar quality.
General description:............................(Back to top)
Formerly known as the Coconut Plaza, this hotel was originally built in 1964, has 10 floors and about 80 rooms.
It sits at the corner of Lewers and Ala Wai, in the back side of Waikiki, across the street from the Ala Wai canal. It was run most of it's existence under the same name, for a while was marketed independently, then it became an Aston, an Aqua and a Best Westernto finally becomepart of the Joie de Vivre chain of hotels
It has basically 6 room categories, City View Queen, City View Double Double, City View King, Mountain View Double Double, Mountain View King and Executive Suites.
This hotel is number "36" within the red zone of our waikiki map, click here to see it's location in relation to other hotels in Waikiki.
What we like about this hotel:............................(Back to top)
Lewers street is a very well known and central Waikiki street, it is only 4 blocks (or 8 minutes walk) to the beach.
Rooms facing the front of the building have a very nice view of the Koholau Mountains and the Ala Wai canal.
Junior suites are like a large studio with 2 bathrooms.
Even though there is a parking fee and taxes like all other hotels in Honolulu, this hotel has opted not to charge a resort fee.
What you may not like about this hotel:............................(Back to top)
City View Queen rooms are VERY small, you may want book the City View/Mountain View Double Double or King instead.
You should not confuse their Executive Suites with a one bedroom, Executive Suites are only one room, just a little larger than the regular City View or Mountain View.
The pool and pool area are VERY small.
You can consistently find better hotels for the rates that this property normally offers it's rooms.
Based on your particular needs and the objective of your trip, this hotel may have other pros and cons that you should consider, call us at (808) 394-2112 for more information.

051211
IMPORTANT NOTE:............................(Back to top)
Please keep in mind that ALL Hotels have shortcomings, the trick is to find a hotel which shortcomings you do not mind.
This hotel may or may not be the best option for it's category considering your particular situation and the days that you plan to visit our islands.
Call (808) 394-2112 to talk to one of our agents and he or she will be able to find for you the best option based on your needs.