# 32 in our Waikiki map.

Hotel Name: .... Regency on Beachwalk.
Category:.........

(warning about star ratings!)
Address: ......... 255 Beachwalk Street.
General description:
What we like about this hotel:
What you may not like about this hotel:

RESORT FEE ALERT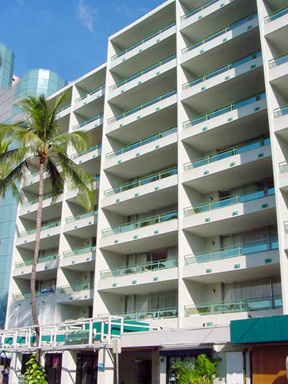 Please call Discount Hotels Hawaii at (808) 394-2112
for the best deal for a Waikiki Hotel of similar quality.
General description:............................(Back to top)
Originally built in the 70's, this property operated under several management companies and names, the last one before the current one was with Marc Hotels and Resorts and under the name Marc Suites Royal.
It looks and feels more like a residential building than a hotel, all units have cooking facilities and most of them are either one bedrooms or 2 bedrooms. When it comes to the common areas, these are small but efficient because the hotel was never marketed as a resort but rather a "home away from home" lodging with many of the things, space and comfort that only 1 and 2 bedrooms can offer.
This hotel is number "32" within the red zone of our waikiki map, click here to see it's location in relation to other hotels in Waikiki.
What we like about this hotel:............................(Back to top)
Like other hotels around it, it is in a very good location and only 200 yards away from the ocean through a narrow path between the Halekulani and the Outrigger Reef hotels.
There is considerably less traffic through Beachwalk street than Lewers, Kalia or Saratoga, so if you want to be in this area, noise levels are lower (remember, lower does not mean non existent, noise in Waikiki is everywhere).
What you may not like about this hotel:............................(Back to top)
This hotel has a mandatory extra daily "Hospitality fee", that is not included in your room total until you check out. These fees, also known as "resort fees" or "amenities fees", are being charged in several area hotels and range from $10 to $40 extra per day.If you chose this property because you wanted to use the closest beach you may feel disappointed because this part of the beach is very narrow.
If you wanted a big pool and lots of amenities, this place is not for you.
Based on your particular needs and the objective of your trip, this hotel may have other pros and cons that you should consider, call us at (808) 394-2112 for more information.

051211
IMPORTANT NOTE:............................(Back to top)
Please keep in mind that ALL Hotels have shortcomings, the trick is to find a hotel which shortcomings you do not mind.
This hotel may or may not be the best option for it's category considering your particular situation and the days that you plan to visit our islands.
Call (808) 394-2112 to talk to one of our agents and he or she will be able to find for you the best option based on your needs.