# 27 in our Waikiki map.

Hotel Name: .... Imperial Hotel.
Category:.........

(warning about star ratings!)
Address: ......... 205 Lewers Street.
General description:
What we like about this hotel:
What you may not like about this hotel:
RESORT FEE ALERT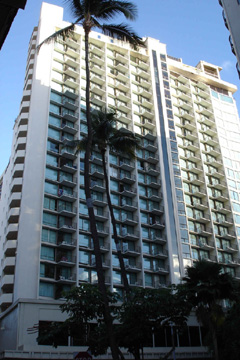 Please call Discount Hotels Hawaii at (808) 394-2112
for the best deal for a Waikiki Hotel of similar quality.
General description:............................(Back to top)
This is another hotel built during the "building boom" experienced in Waikiki in the 60's and 70's, this one in particular was opened in 1967 and features Studios, one bedrooms and 2 bedrooms. The core of the operation is based on a time share structure but it can also be booked as a hotel. It has small but adequate common areas including a nice lobby and a small swimming pool with a jacuzzi.
This hotel is number "27" within the red zone of our waikiki map, click here to see it's location in relation to other hotels in Waikiki.
What we like about this hotel:............................(Back to top)
Like other hotels around it, it is in a very good location and only 100 yards away from the ocean through a narrow path between the Halekulani and the Outrigger Reef hotels.
All units have some cooking facilities.
What you may not like about this hotel:............................(Back to top)
This hotel has a mandatory extra daily "Resort fee", that is not included in your room total until you check out. These fees, also known as "hospitality fee" or "amenities fee", are being charged in several area hotels and range from $10 to $40 extra per day.
Due to the building proximity to the street and how narrow Lewers and Kalia roads are, noise can be a problem. Please keep in mind that there is no quiet place in Waikiki but in this case you may find that it is louder than the average for the area.
The property has a room category that they call "Ohia Studios", this rooms are quite small and the bedding configuration there is a Queen sofa bed plus a double Murphy bed. For those that are not familiar with these kind of beds, Murphy beds are those that you "pull down" from the wall.
If you chose this property because you wanted to use the closest beach you may feel disappointed because this part of the beach is quite narrow.
Based on your particular needs and the objective of your trip, this hotel may have other pros and cons that you should consider, call us at (808) 394-2112 for more information.

051211
IMPORTANT NOTE:............................(Back to top)
Please keep in mind that ALL Hotels have shortcomings, the trick is to find a hotel which shortcomings you do not mind.
This hotel may or may not be the best option for it's category considering your particular situation and the days that you plan to visit our islands.
Call (808) 394-2112 to talk to one of our agents and he or she will be able to find for you the best option based on your needs.