# 26 in our Waikiki map.

Hotel Name: .... Halekulani Hotel.
Category:.........

(warning about star ratings!)
Address: ......... 2199 Kalia Road.
General description:
What we like about this hotel:
What you may not like about this hotel: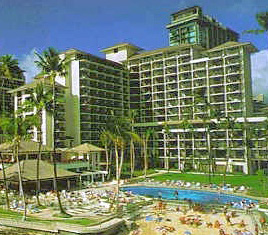 Please call Discount Hotels Hawaii at (808) 394-2112
for the best deal for a Waikiki Hotel of similar quality.
General description:............................(Back to top)
This is the only hotel rated 5 stars on and off over the years on the Island of Oahu. Like many traditional Waikiki Hotels, the original construction started many years ago with parts of the property developed as far back as 1920. The latest part of the development however was opened for business in 1984 and has remained unchanged ever since albeit with the logical continuous maintenance and renovation required in a property of this category.
This hotel is number "26" within the red zone of our waikiki map, click here to see it's location in relation to other hotels in Waikiki.
What we like about this hotel:............................(Back to top)
It is without a doubt one of the Waikiki Hotels that has the best service, from the Hotel operation to the restaurants and the stores.
It is one of the few hotels located actually ON Kuhio beach (better known as Waikiki beach) and it is in a very desirable central location.
What you may not like about this hotel:............................(Back to top)
The beach in front of this hotel is almost non existent (no sand) so for many, paying for a "beachfront property" that has almost no beach in front of it it's a disappointment.
Some travelers feel that the parcel is a little overbuilt, it is as if they expect to have more open space.
Based on your particular needs and the objective of your trip, this hotel may have other pros and cons that you should consider, call us at (808) 394-2112 for more information.

051211
IMPORTANT NOTE:............................(Back to top)
Please keep in mind that ALL Hotels have shortcomings, the trick is to find a hotel which shortcomings you do not mind.
This hotel may or may not be the best option for it's category considering your particular situation and the days that you plan to visit our islands.
Call (808) 394-2112 to talk to one of our agents and he or she will be able to find for you the best option based on your needs.