# 25 in our Waikiki map.

Hotel Name: .... Outrigger Reef Hotel.
Category:.........

(warning about star ratings!)
Address: ......... 2169 Kalia Rd.
General description:
What we like about this hotel:
What you may not like about this hotel:

RESORT FEE ALERT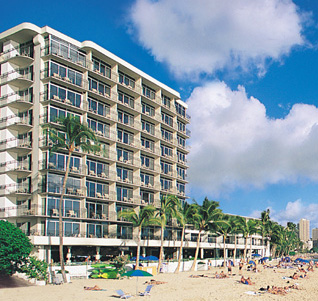 Please call Discount Hotels Hawaii at (808) 394-2112
for the best deal for a Waikiki Hotel of similar quality.
General description:............................(Back to top)
This hotel has several buildings that date all the way back to the 60's, it has almost 900 rooms and is located on one of the most famous stretches of sand in the world.
For decades it has been one of the most recognizable hotels in the area, a familiar figure for visitors and locals alike.
In 2010 the hotel finished it's last renovation.
This hotel is number "25" within the red zone of our waikiki map, click here to see it's location in relation to other hotels in Waikiki.
What we like about this hotel:............................(Back to top)
Location, Location, Location, there are only 7 hotels on the beach that are considered to be in the center of Waikiki, this is one of them.
What you may not like about this hotel:............................(Back to top)
This hotel has a mandatory extra daily "Hospitality fee", that is not included in your room total until you check out. These fees, also known as "resort fees" or "amenities fees", are being charged in several area hotels and range from $10 to $40 extra per day.
Beach front properties are all overpriced and this one is no exception.
ALL beaches in Hawaii are public, so you can use the same beach in front of this hotel even if you are staying in a hotel that is a few minutes walking distance and the price difference for a similar quality hotel is HUGE. A 5 to 10 minute walk from this spot will buy you a similar or better hotel for half the cost and considering that there are no perks or advantages in beach usage by staying in a beach front hotel, you may want to put your money to better use.
Waikiki beach is man-made (yes, we ad sand to this place every so often). Most of it is also very narrow and in some areas none existant. We have great beatiful NATURAL beaches all around this island such as Kailua Beach, Waimanalo Beach, Sunset beach, Waimea Beach, Sandy Beach and Hanauma Bay beach park to name a few but with no hotels nearby so whether you rent a car or you decide to hop on to our great public transportation system (TheBus.org), if you like to spend time on the beach, take the time and effort to visit them, they are worth it and after all, those are the beaches that made Hawaii famous.
Based on your particular needs and the objective of your trip, this hotel may have other pros and cons that you should consider, call us at (808) 394-2112 for more information.

020611
IMPORTANT NOTE:............................(Back to top)
Please keep in mind that ALL Hotels have shortcomings, the trick is to find a hotel which shortcomings you do not mind.
This hotel may or may not be the best option for it's category considering your particular situation and the days that you plan to visit our islands.
Call (808) 394-2112 to talk to one of our agents and he or she will be able to find for you the best option based on your needs.