# 19 in our Waikiki map.

Hotel Name: .... Hawaiiana Hotel and Dorm.
Category:......... Budget. (below 1 star)
Address: ......... 260 Beachwalk St.
General description:
What we like about this hotel:
What you may not like about this hotel:
STUDENT DORM / HOTEL
Even though the Hawaiiana is still operating as a hotel it has turned a considerable portion of the rooms into dorms for the university (click here for a local paper article).
This property was originally built in 1955 and operated as a Hotel for over 50 years until July 2009 that was turned into a University dorm.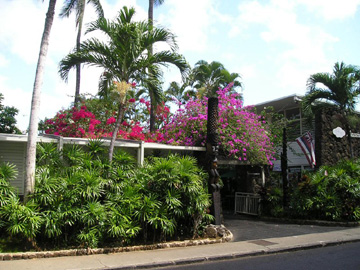 Please call Discount Hotels Hawaii at (808) 394-2112
for the best deal for a Waikiki Hotel of similar quality.
General description:............................(Back to top)
This hotel was originally built in 1955, it consists of several low-rise (2 and 3 story) buildings with a total of 93 rooms most of which are hotel rooms and studios but it also has some 1 bedrooms, all built around a small swimming pool. The general location is very good and central, it is also only about 200 yards from the ocean. Even though is only a budget hotel, it has private bathroom, color TV, AC and phone in the rooms. This is the typical construction and layout of a bygone era when the highest building in Honolulu was the Aloha Tower.
This hotel is number "19" within the red zone of our waikiki map, click here to see it's location in relation to other hotels in Waikiki.
What we like about this hotel:............................(Back to top)
The Hawaiiana and the Breakers are two charming little hotels that keep many of the things and ambiance that you could see in the old Hollywood movies about Hawaii and Waikiki.
Very good location in what is now a very upscale section of Waikiki with the "Embassy Suites" and "Trump Waikiki Tower" just steps away from this hotel's entrance.
What you may not like about this hotel:............................(Back to top)
For many the Hawaiiana and the Breakers hotels are not charming, they are just plain old. These are controversial properties that people either love or hate.
If you are looking for modern, flawless and manicured hotels, these places may not be for you.
For the age and quality, these hotels should be a LOT less expensive than they normally are.
None of the several small buildings in these hotels have elevators and this could be a real problem for those with mobility problems.
As long as the Trump Tower is under construction it may be a good idea to stay away from these properties since they are too close to the construction site.
Based on your particular needs and the objective of your trip, this hotel may have other pros and cons that you should consider, call us at (808) 394-2112 for more information.
IMPORTANT NOTE:............................(Back to top)
Please keep in mind that ALL Hotels have shortcomings, the trick is to find a hotel which shortcomings you do not mind.
This hotel may or may not be the best option for it's category considering your particular situation and the days that you plan to visit our islands.
Call (808) 394-2112 to talk to one of our agents and he or she will be able to find for you the best option based on your needs.