# 17 in our Waikiki map.

Hotel Name: .... Luana Hotel.
Category:.........

(warning about star ratings!)
Address: ......... 2045 Kalakaua Ave.
General description:
What we like about this hotel:
What you may not like about this hotel:
RESORT FEE ALERT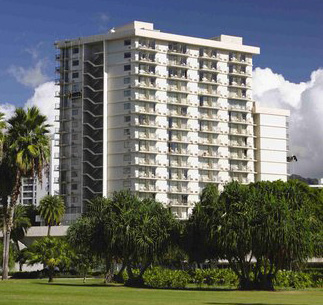 Please call Discount Hotels Hawaii at (808) 394-2112
for the best deal for a Waikiki Hotel of similar quality.
General description:............................(Back to top)
Originally built in 1971, this hotel operated under the Waikiki Terrace name for most of it's existence until it underwent a profound renovation in 2004. In fact this property was one of the first to be turned into what are now called condo-hotels. At that point each unit was sold separately to independent owners most of which turned around and placed the units in the hotel pool that now is operated by the Outrigger corporation under the name Luana. This hotel is physically on what is known as "Fort DeRussy" .
Fort DeRussy is a vast military area in Waikiki most of which is like a park and open to the public, The Hale Koa military hotel, the Army museum a large parking structure and some recreational facilities are mostly oriented towards servicing the armed forces.
This hotel is number "17" within the white zone of our waikiki map, click here to see it's location in relation to other hotels in Waikiki.
What we like about this hotel:............................(Back to top)
The kind of renovation that was undertaken to turn this property into a condo-hotel turned this hotel in a very nice property.
If you are in the military, the close proximity to Fort DeRussy will allow you to enjoy many of the amenities reserved in the area for the armed forces.
What you may not like about this hotel:............................(Back to top)
This hotel has a mandatory extra daily "Resort fee", that is not included in your room total until you check out. These fees, also known as "hospitality fee" or "amenities fee", are being charged in several area hotels and range from $10 to $40 extra per day.
The hotel is located ona major avenue, in front of a traffic light and next to a 24-7 gas station so street and traffic noise is always a concern.
Based on your particular needs and the objective of your trip, this hotel may have other pros and cons that you should consider, call us at (808) 394-2112 for more information.

051211
IMPORTANT NOTE:............................(Back to top)
Please keep in mind that ALL Hotels have shortcomings, the trick is to find a hotel which shortcomings you do not mind.
This hotel may or may not be the best option for it's category considering your particular situation and the days that you plan to visit our islands.
Call (808) 394-2112 to talk to one of our agents and he or she will be able to find for you the best option based on your needs.