# 15 in our Waikiki map.

Hotel Name: .... Holiday Inn Express.
Category:.........

Two Stars (warning about star ratings!)
Address: ......... 2058 Kuhio Ave.
General description:
What we like about this hotel:
What you may not like about this hotel:
RESORT FEE ALERT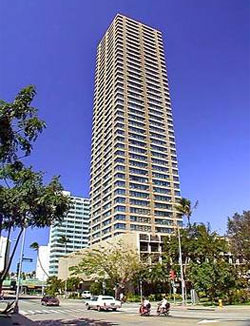 Please call Discount Hotels Hawaii at (808) 394-2112
for the best deal for a Waikiki Hotel of similar quality.
General description:............................(Back to top)
This slender 44 floor, 596 room tower was originally built in 1984 . It was operated under the Maile Sky Court name from the start, first was an Outrigger, later on it became an Ohana (still under Outrigger). Towards the end of 2007 Castle Hotels and Resorts took over management for 2 years, in 2009 was controlled by Aqua Hotels (later Aston-Aqua) and currently is under the Holiday Inn Express brand all these are very well known and well established hotel companies in Hawaii and the Pacific.
The rooms are not big but they are adequate for 2 people. The common areas are spacious considering the hotel's category, with a pool and a Jacuzzi. The lobby is adequate with 2 different entrances and parking is plentiful, covered and secured but like all hotels in Waikiki, for a fee.
The hotel underwent a 30 million dollar renovation during 2016.
This hotel is number "15" within the white zone of our waikiki map, click here to see it's location in relation to other hotels in Waikiki.
What we like about this hotel:............................(Back to top)
Is one of the few one star hotels with a jacuzzi in the pool area. Unfortunately the pool is very small.
If you are going to have a car, is good to know that even though parking is very expensive, it is quite plentiful and that is a lot more that what can be said for a lot of hotels in Waikiki.
What you may not like about this hotel:............................(Back to top)
IMPORTANT NOTE:............................(Back to top)
Please keep in mind that ALL Hotels have shortcomings, the trick is to find a hotel which shortcomings you do not mind.
This hotel may or may not be the best option for it's category considering your particular situation and the days that you plan to visit our islands.
Call (808) 394-2112 to talk to one of our agents and he or she will be able to find for you the best option based on your needs.