# 14 in our Waikiki map.

Hotel Name: .... Wyndham Royal Gardens Hotel and Tower.
Category:.........

(warning about star ratings!)
Address: ......... 440 Olohana St.
General description:
What we like about this hotel:
What you may not like about this hotel: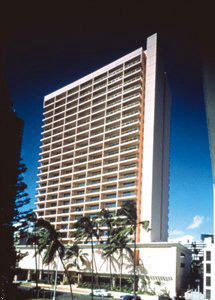 Please call Discount Hotels Hawaii at (808) 394-2112
for the best deal for a Waikiki Hotel of similar quality.
General description:............................(Back to top)
From the more than 200 rooms and suites that this building has, a little over 160 are offered as a hotel and time share, the rest are privately owned by individuals some of which are permanent residents and others rent the units as vacation or long term rentals.
This hotel was built in 1977 and operated for a long time under the name "Holiday Isle" by a company named Pleasant Hawaiian Holidays. It was sold in the 90"s to a Japanese company that invested a HUGE amount of money and brought this property to a 4 star rating. The common areas are ample and beautifully decorated with granite and it has a pleasant and tranquil pool area in the back.
The hotel side of the property has been recently purchased by Wyndham that is turning the hotel side of the property into a Hotel and time share operation that had a soft opening on January 2011 after an extensive multimillion dollar renovation that turned this building into one of the nicest lodging options in Waikiki.
This hotel is number "14" within the white zone of our waikiki map, click here to see it's location in relation to other hotels in Waikiki.
What we like about this hotel:............................(Back to top)
This area is the closest you will get to "quiet" in Waikiki.
Very high end property.
Studios, one bedrooms, 2 bedrooms and even 3 bedrooms available, what is quite rare for a deluxe property.
Wall to wall windows and balconies that offer spectacular views of the Ala Wai, Mountains, City and Ocean on the high floors above the 15th floor.
Quiet inviting pool area with barbeque and sauna.
Air conditioned exercise room.
Fifty yards away from the bus line.
Steps away from DeRussy park that extends all the way to the best and widest section of Waikiki Beach.
Panoramic views of the Mountains and the Ala Wai from every unit. Units above the 15th floor also have ocean views.
The lobby, corridors, common areas and units are one of the nicest that you can find in Waikiki with extensive use of marble and granite.
Private condo units with cooking facilities are available.

Parking is extra like everywhere in Waikiki but is valet parking what make things a lot easier without costing more than other Hotels in the area.
24-7 security guards
Strict non smoking ban is enforced throughout the property.
What you may not like about this hotel:............................(Back to top)
It is about 7 minutes walk to the beach and about 12 minutes walk to the International Market place (the "center" of the area) it' is sure not a lot but if you have mobility difficulties you may want to consider being closer to the International Market Place, it will be a lot noisier but you will not need to walk as much to go to the beach or the center of Waikiki.
This property does not offer daily maid service.
It is not a 'busy" hotel so if you are looking for a place with tons of people coming and going, you may feel that is not busy enough.
Based on your particular needs and the objective of your trip, this hotel may have other pros and cons that you should consider, call us at (808) 394-2112 for more information.

051211
IMPORTANT NOTE:............................(Back to top)
Please keep in mind that ALL Hotels have shortcomings, the trick is to find a hotel which shortcomings you do not mind.
This hotel may or may not be the best option for it's category considering your particular situation and the days that you plan to visit our islands.
Call (808) 394-2112 to talk to one of our agents and he or she will be able to find for you the best option based on your needs.