# 13 in our Waikiki map.

Hotel Name: .... Ambassador Hotel.
Category:.........

(warning about star ratings!)
Address: ......... 2040 Kuhio Ave.
General description:
What we like about this hotel:
What you may not like about this hotel:
UNDER RENOVATION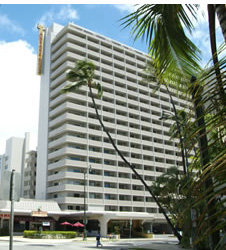 General description:............................(Back to top)
Built in 1968, this Hotel has 2 different buildings, 18 and 8 floors high with a total of a little over 300 rooms, most of which are Hotel rooms and Studios with kitchenettes but it has also some 1 bedroom units.
It has always operated under the same name, it was built as a family type low end Hotel and has remained over the years in the same star rating. No major renovation was done to this hotel since it was built other than the normal ones to keep up with the daily wear and tear like carpet, bed covers and curtains but the hotel is in acceptable condition for the category.
Common areas are adequate and include a small swimming pool and more than enough restaurants, bars and shopping can be reached within walking distance.
Like all hotels in Waikiki, parking as is available but for an extra fee so are the in room safes,and high speed internet connection.
This hotel is number "13" within the white zone of our waikiki map, click here to see it's location in relation to other hotels in Waikiki.
What we like about this hotel:............................(Back to top)
Most of the rooms have cooking facilities and even though they are not huge, they are big enough for either one king bed or 2 double beds, when normally hotels of this category tend to have a lot smaller rooms
Most of the rooms have a balcony.
What you may not like about this hotel:............................(Back to top)
This hotel has a mandatory extra daily "Hospitality fee", that is not included in your room total until you check out. These fees, also known as "resort fees" or "amenities fees", are being charged in several area hotels and range from $10 to $40 extra per day.
It is 3 blocks away from the beach, think about 6 or 7 minutes walk.
It is 8 blocks away from the International market Place (for many that is the "center" of Waikiki) so you will be about 16 minutes walk to Waikiki's center.
It is more than 40 years old and even though is maintained adequately, since it was never fully renovated, it shows.

1211
IMPORTANT NOTE:............................(Back to top)
Please keep in mind that ALL Hotels have shortcomings, the trick is to find a hotel which shortcomings you do not mind.