# 12 in our Waikiki map.

Hotel Name: .... Hilton Hawaiian Village Hotel.
Category:.........

(warning about star ratings!)
Address: ......... 2005 Kalia Rd.
General description:
What we like about this hotel:
What you may not like about this hotel:
RESORT FEE ALERT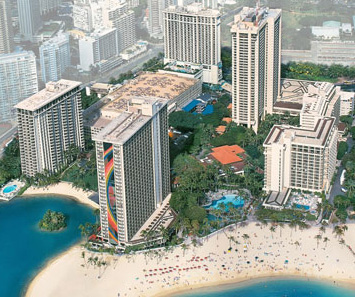 Please call Discount Hotels Hawaii at (808) 946-1216
for the best deal for a Waikiki Hotel of similar quality.
General description:............................(Back to top)
With almost 3000 rooms and suites the seven towers of the Hilton Hawaiian Village have been built in different stages over the last 50 years. The hotel features extensive common areas, a wedding chapel, ballrooms, several swimming pools, restaurants, bars, shops and a private lagoon.
This hotel is number "12" within the green zone of our Waikiki map, click here to see it's location in relation to other hotels in Waikiki.
What we like about this hotel:............................(Back to top)
The Hilton name is a very recognizable brand in the hotel industry.
The hotel is located on the widest part of the public beach fronting Waikiki on a 22 acre of prime real estate land and includes 7 towers surrounded by tropical gardens.
It offers several pools, one with a water slide, as well as the access to a public salt water lagoon situated next to the public beach. Stores, restaurants and bars complete the resort type atmosphere.
Every Friday after dawn, the Hilton Hawaiian Village displays aerial fireworks on the beach for everybody to enjoy.
What you may not like about this hotel:............................(Back to top)
This hotel charges a $20 to $30 A DAY of what they call "amenities fee". This is in addition to the $25 to $30 parking fee that you would be charged if you want to park a car. These fees are NOT included in your rate and will be billed to you at the time of check in.
Most travelers that seek 4 star properties want to be in the middle of everything, well, this hotel is not, and that turns off a lot of people. It is not far from the International Market Place but some people feel that way, in fact it feels so far from "everything", that people tend to stay in the hotel more than they otherwise would and there are those that think that they did not come to Hawaii to spend all the time in a Hotel. Visitors tend to gravitate to the blocks around the International Market Place in the evenings and for that reason many prefer to be in a more central location.
About 25 years ago the name "village" seemed appropriate since there were only 3 towers built and the rest was open space and gardens. Now it is starting to look more like a concrete jungle. Since then they have ballooned to 8 towers and counting since they unveiled their latest expansion plan to build 2 more huge towers that will among other things, eliminate the famous Rainbow Bazaar, a quaint and extensive area of low rise Japanese stile buildings that has given the property a distinctive style for decades.
Bottom line, go to the center of Waikiki (areas red or blue in our Waikiki map) you will enjoy your stay more.
Based on your particular needs and the objective of your trip, this hotel may have other pros and cons that you should consider, call us at (808) 394-2112 for more information.

051211
IMPORTANT NOTE:............................(Back to top)
Please keep in mind that ALL Hotels have shortcomings, the trick is to find a hotel which shortcomings you do not mind.
This hotel may or may not be the best option for it's category considering your particular situation and the days that you plan to visit our islands.
Call (808) 394-2112 to talk to one of our agents and he or she will be able to find for you the best option based on your needs.