# 11 in our Waikiki map.

Hotel Name: .... Ramada Plaza Hotel.
Category:.........

(warning about star ratings!)
Address: ......... 1830 Ala Moana Blvd.
General description:
What we like about this hotel:
What you may not like about this hotel: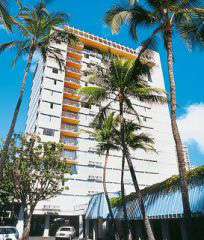 .
General description:............................(Back to top)
This Hotel was built in the 70's and operated under the name Dynasty Hotel for several years until the 80's that it was renamed Holiday Inn. This property completed an ambitions renovation in 2009 and change the name to Ramada Plaza in January 2010. The common areas are adequate for the star rating with a pleasant lobby/front desk, a restaurant, a pool and an air conditioned exercise room. The location is great if you need to be on the west side of Waikiki, is very close to the Convention Center, the Ala Moana Shopping center and the Hilton Hawaiian Village. Several restaurants are walking distance to the hotel and the International Market Place is about 15-20 minutes walk from this property.
This hotel is number "11" within the green zone of our waikiki map, click here to see it's location in relation to other hotels in Waikiki.
What we like about this hotel:............................(Back to top)
It may be hard to get this hotel at a discounted rate but if you find it, it is without a doubt one of the best deals in Waikiki.
Room rates include a high speed internet access in the room and free wireless internet access in the lobby and pool area as well as free use of safety deposit box in the room. For those guests that do not carry their laptops with them, the hotel has 2 complimentary computers set up in the lobby area.
A small but well stocked and air conditioned complimentary exercise room is a nice thing to have when you need to keep certain level of daily exercise during your visit to the islands.
It offers the traveler a well known brand in a price bracket that Waikiki does not have too many recognizable names.
The western location is especially good if you are coming for a convention taking place at the Convention Center or the Hilton Hawaiian Village and you do not want to pay for a high end Hotel.
If shopping is your objective, being walking distance to the Ala Moana Shopping Center is a plus since this is the largest Shopping Center in the State of Hawaii.
Even though this hotel has an entrance on Ala Moana Blvd, it is actually located on a small inner street called Kaioo that sets the building about 35 yards away from the noise of the Ala Moana Blvd. This does not mean that noise may not a problem but at least it will be lower than for those Hotels on the boulevard since keep in mind that Ala Moana is a State Highway.
The best part of the beach in the Waikiki area sits in front of the Hilton Hawaiian Village (white area of our map), this hotel is about 5 minute walk to this beach and only 15 minute walk to Ala Moana Beach.
What you may not like about this hotel:............................(Back to top)
Because of it's name recognition it tends to be more expensive than other Waikiki hotels of similar category but that is an expected result of the "peace of mind" that a name brand offers to a traveler in an environment like Hawaii where there are not very many familiar names when it comes to Hotels.
The Ramada Plaza Waikiki is of course IN Waikiki right across the street from one of the best Hotels on the Island, the Hilton Hawaiian Village, it is also about 15 minutes away from the center and even though Waikiki is very small and everything is walking distance, for some people even a 15 minute walk to the International Market Place is too much.

51211
IMPORTANT NOTE:............................(Back to top)
Please keep in mind that ALL Hotels have shortcomings, the trick is to find a hotel which shortcomings you do not mind.