# 10 in our Waikiki map.

Hotel Name: .... Polynesian Plaza.
Category:......... Budget . (warning about star ratings!)
Address: ......... 2131 Kalakaua Ave
General description:
What we like about this hotel:
What you may not like about this hotel: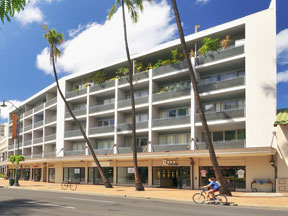 Please call Discount Hotels Hawaii at (808) 394-2112
for the best deal for a Waikiki Hotel of similar quality.
General description:............................(Back to top)
This property is a short 5 story building on the main avenue in Waikiki and was built in the 70's. Operated over the years as rondos and vacation rentals was sold in 2013 and turned into a hotel.
This hotel has not seen any major renovation in recent years but is scheduled to do in the near future.
There is a swimming pool but common areas are rather small. Like all other hotels in Waikiki, parking is charged extra and is located off property. There are some street parking areas walking distance to this hotel but be advised that spots are hard to find especially after 6 p.m.
It is a fact that noise is a problem for all the Hotels in Waikiki, but being on Kalakaua Ave. does not help.
This hotel is number "10" within the red zone of our Waikiki map, click here to see it's location in relation to other hotels in Waikiki.
What we like about this hotel:............................(Back to top)
This hotel has normally very reasonable rates and is often considered as an option by the budget conscious traveler. It has everything you need, in a central location and within a reasonable price.
Located on Kalakaua Ave. this hotel is close to multiple restaurants and shops as well as walking distance to Waikiki beach.
The best part of the Waikiki Beach is in front of the DeRussi Park, Hale Koa Hotel and Hilton Hawaiian Village which is within walking distance to this Hotel.
What you may not like about this hotel:............................(Back to top)
The Polynesian Plaza is lacking in some of the most basic hotel necessities such as a hotel lobby, in house restaurant or in room phones.
The fact that this property has not been renovated for a while may be a problem for some visitors.
The pool is somewhat small.
There is only one elevator in this property.
This is a very small operation.
Based on your particular needs and the objective of your trip, this hotel may have other pros and cons that you should consider, call us at (808) 394-2112 for more information.

051211
IMPORTANT NOTE:............................(Back to top)
Please keep in mind that ALL Hotels have shortcomings, the trick is to find a hotel which shortcomings you do not mind.
This hotel may or may not be the best option for it's category considering your particular situation and the days that you plan to visit our islands.
Call (808) 394-2112 to talk to one of our agents and he or she will be able to find for you the best option based on your needs.062309