# 6 in our Waikiki map.

Hotel Name: .... Palms Hotel.
Category:.........

. (warning about star ratings!)
Address: ......... 1850 Ala Moana Blvd.
General description:
What we like about this hotel:
What you may not like about this hotel: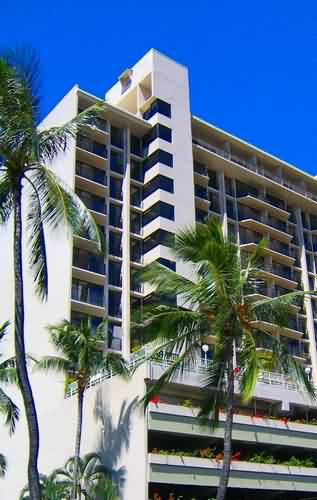 .
General description:............................(Back to top)
Originally built in 1970 this 12 story building started operations as a Hotel under the name Waikiki Parkside until it was closed for renovation in 2003. It remained closed until late 2005 .The property was then finished and sold to private owners and reopened with the name Aqua Palms towards the end of 2005 as a condo-hotel. It features an adequate common area with a small pool an exercise room and a spa, the lobby is adequate in size and inviting. No steps or stairs are present from the street to the registration and elevators.
Like all Aqua Hotels, this hotel is a gay friendly facility that welcomes gay men, lesbian, bisexual, trans gender and straight and is also a memeber of the IGLTA (International Gay and Lesbian Travel association)
In 2009 an "IHOP" restaurant opened on the ground floor of this hotel, lobby level.
This hotel is number "6" within the green zone of our waikiki map, click here to see it's location in relation to other hotels in Waikiki.

What we like about this hotel:............................(Back to top)
All units have a microwave oven, mini-fridge, coffee maker and high speed internet.
Even though no garage security is foolproof, this particular hotel has a parking structure that closes with a curtain and can not be accessed unless you have an access card/code or it is opened via intercom from the front desk.
If you are planning to go to the beach closest to your hotel, the closest to the Palms is the beach in front of the Hilton Hawaiian Village and that for many is the best area that Waikiki beach has to offer, you will have to walk around the Hilton and that may be somewhat long for many (about 15/20 minutes) but it is worth the stroll, click here for a satellite picture that will help you figure out the best parts of Waikiki beach.
What you may not like about this hotel:............................(Back to top)
This hotel has a mandatory extra daily "Hospitality fee", that is not included in your room total until you check out. These fees, also known as "resort fees" or "amenities fees", are being charged in several area hotels and range from $10 to $40 extra per day.
The Aqua Palms is right across the street from one of the best Hotels on the Island, the Hilton Hawaiian Village but it is also about 15 minutes away from the center and even though Waikiki is very small and everything is walking distance, for some people even a 15 minute walk to the International Market Place is too much.
Some rooms have lanais (balconies) and others only have a balcony railing with a sliding door. This is due to the building design and the location of the main building columns.

1912
IMPORTANT NOTE:............................(Back to top)
Please keep in mind that ALL Hotels have shortcomings, the trick is to find a hotel which shortcomings you do not mind.