# 5 in our Waikiki map.

Hotel Name: .... Equus Hotel
Category:.........

. (warning about star ratings!)
Address: ......... 1696 Ala Moana blvd.
General description:
What we like about this hotel:
What you may not like about this hotel: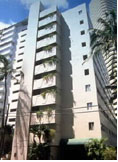 .
General description:............................(Back to top)
This structure was originally built in 1961 and operated as a low end one star hotel under different names like Driftwood Hotel and Hawaii Polo Inn, In 2007 underwent an ambitious renovation aiming at increasing the star rating of the property. The hotel has 10 floors. The common areas are small with a very small pool and a single elevator.
Parking is very expensive and very limited.
This hotel is number "5" within the green zone of our waikiki map, click here to see it's location in relation to other hotels in Waikiki.
What we like about this hotel:............................(Back to top)
This hotel underwent a renovation in 2007 and the rooms look a lot better than before.
This Hotel is in very close proximity to the Honolulu Convention Center which makes it a good choice for travelers attending events there or for any other event that requires the visitor to be on the west side of Waikiki.
What you may not like about this hotel:............................(Back to top)
Most rooms have no balconies.
Clients have to haul their luggage from the street level to the first floor (17 steps) where the front desk is because the only elevator does not reach the street level (?).
You will most likely approve of the fact that the rooms are better now after the renovation, they are still small but better than before, yet you may not like are the facilities "wrapped around" them. Open corridors, small lobby, small front desk, only one elevator for the whole hotel, walk up second floor lobby without elevator access and tiny swimming pool are some of the things that many visitors complaint about.
The bathrooms are very small, have no tubs only shower stalls.

On the Waikiki map, this hotel appears to be close to the ocean, but please be advised that this area is a not very clean marina full of boats. The closest beach that you can swim in is in front of the Hilton Hawaiian Village about 6 blocks away (about 15 minutes walk)
Parking is very limited and it is only on a first come, first serve basis. You may want to think it twice before renting a car because you may end up without a spot to park it.
As the Equus Hotel is at the beginning of Waikiki, the hotel is 15 minutes walk from the center of Waikiki.

1211
IMPORTANT NOTE:............................(Back to top)
Please keep in mind that ALL Hotels have shortcomings, the trick is to find a hotel which shortcomings you do not mind.2309