# 4 in our Waikiki map.

Hotel Name: .... Marina Tower Hotel
Category:.

One star.(warning about star ratings!)
Address: ......... 1700 Ala Moana blvd.
General description:
What we like about this hotel:
What you may not like about this hotel: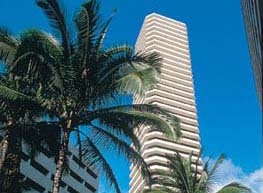 .
General description:............................(Back to top)
Also known as Waikiki Marina, this hotel was built in 1984, this tower has 40 floors with 2 "glass" elevators on the back, facing the mountains. All units in this building are very small, feature kitchenettes but NO balconies.
This was an Aqua property for many years until the end of 2009 and was known as Aqua Marina Hotel.
The common areas like the lobby and registration are very small, the pool area is not big but is pleasant, has a jacuzzi and a tennis court. Parking is charged extra and is quite expensive.
There are some street parking areas walking distance to this hotel but be advised that spots are hard to find especially after 6 p.m.
This hotel is number "4" within the green zone of our waikiki map, click here to see it's location in relation to other hotels in Waikiki.

What we like about this hotel:............................(Back to top)
All units at this hotel have a kitchen,
The swimming pool area is nice and with a fair amount of sun exposure during the day for sunbathing. The pool is of a fair size and the common area also has a jacuzzi and a tennis court.
The building is a high rise and some rooms will have a panoramic view.
This Hotel is in very close proximity to the Honolulu Convention Center, which makes it a good choice for travelers attending events there.
What you may not like about this hotel:............................(Back to top)
On the Waikiki map, this hotel appears to be close to the ocean but please be advised that this area is a marina full of boats. The closest beach that you can swim in is in front of the Hilton Hawaiian Village about 6 blocks away (about 15 minutes walk)
For some people the size of the rooms is somewhat small. Two guests is the maximum allowed in these units.
Rooms have no balconies.
As the Marina Tower Hotel is at the beginning of Waikiki, the hotel is 15 minutes walk from the center of Waikiki.

21912
IMPORTANT NOTE:............................(Back to top)
Please keep in mind that ALL Hotels have shortcomings, the trick is to find a hotel which shortcomings you do not mind.62309