# 3 in our Waikiki map.

Hotel Name: .... Ilikai Hotel
Category:.........

. (warning about star ratings!)
Address: ......... 1777 Ala Moana Blvd.
General description:
What we like about this hotel:
What you may not like about this hotel: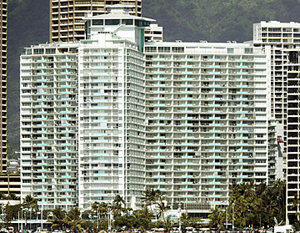 .
General description:............................(Back to top)
Built in 1960, when it comes to size, the Ilikai is an impressive structure of 26 floors, located at the entrance of Waikiki right next to the Hilton Hawaiian Village. Common areas are ample and is an overall comfortable property.
Units are spacious and the proximity to the ocean provides for the potential of excellent views. You need to remember that like most hotels, not all units have views but in this case they all have a balcony to set up some chairs and enjoy the hawaiian weather.
This building has a mix of hotel operated rooms, private condos with permanent residents and vacation rentals.

This hotel is number "3" within the green zone of our Waikiki map, click here to see it's location in relation to other hotels in Waikiki.

What we like about this hotel:............................(Back to top)
Since this Hotel was built a long time ago, the rooms tend to be more spacious than other Waikiki hotels of the same category.
It is one of the few 3 star hotels that besides the regular hotel rooms, it has a good number of 1 and 2 bedroom suites with kitchens.
This Hotel is in very close proximity to the Honolulu Convention Center, which makes it a good choice for travelers attending events there.
It is also within walking distance to the Ala Moana Shopping Center, which makes it a good choice for those shopping-oriented visitors since the Ala Moana Shopping Center is the largest one in the State of Hawaii.
It has very easy access in and out of Waikiki which makes it a good choice for people coming for work who do not need to be "in the middle" of Waikiki.
The best part of the Waikiki Beach is in front of the Hilton Hawaiian Village which is within walking distance to this Hotel (about 12 minute walk), click here for a satellite picture that will help you figure out the best parts of Waikiki beach.
This area is also the closest to the Ala Moana Beach Park (about 10 to 20 minutes walk). If you are planning to stay within Honolulu to go to the beach, Ala Moana Beach is a good option, has free parking, 2 food stands, restrooms, showers and due to the shape of the coral reef in the area, it has no waves which makes it especially good for children, (nevertheless adult supervision is always advised since the water eventually does get deep!). Keep in mind however that this beach is very popular with the local population therefore on Saturdays and Sundays it can be quite crowded.
What you may not like about this hotel:............................(Back to top)
If you stay in a hotel unit, it has a mandatory extra daily "Resort fee", that is not included in your room total until you check out. These fees, also known as "hospitality fee" or "amenities fee", are being charged in several area hotels and range from $10 to $40 extra per day.
This hotel offers 1 bedroom suites. If you are booking this hotel because of the supposed privacy that a 1 bedroom unit would provide, be advised that these units are not one bedrooms but a large studio with kitchens that are fitted with a large 3 part sliding door that separates the unit into a bedroom area and a living room area, even though they are better than a regular studio, they do not provide the privacy that most people seek when looking for a 1 bedroom suite.

121912
IMPORTANT NOTE:............................(Back to top)
Please keep in mind that ALL Hotels have shortcomings, the trick is to find a hotel which shortcomings you do not mind.